Before putting your home on the market, use our home selling checklist of things to do in preparation for listing. Some items are simple, while others may require some elbow grease. The result is a home that puts your competition to shame.
When selling a home, your goal is for it to sell quickly for the best possible price, but a quick sale does not happen all on its own. There are steps to accomplishing this plan. It will take some time and elbow grease, but the result will be a show-stopping home that sets you apart from all the other homes on the market. So, how do you accomplish this?
First and foremost, you want to make an excellent first impression. Simply put, you have a tiny window to do this. Within the initial 15 seconds of walking into your home, a buyer will decide if this is the home for them. They either continue the tour or hurry out the door to the next property.
Although a clean and well-organized home may not be a top priority in their own home, the tables turn when they take on the role of a buyer. They expect a clean and organized home with no deferred maintenance.
As a seller, your task list may seem a bit overwhelming, but if you focus on tackling a little at a time before you know, your home will be ready to knock some buyer's socks off.
Follow our home selling checklist for some of the best ways to sell your house quickly.

---
Home Selling Checklist
Exterior Items
Quick tip: When a seller drives by your home, does it scare them away or tempt them to see the inside?
Pressure wash the house, driveway, and sidewalk

. Freshen up the exterior paint and trim, if needed. If repainting the home, keep colors neutral.
Buy a new welcome mat.

Paint or replace the front door if needed. Replace rotten wood.

Clean or replace the mailbox.

Wash your windows, inside and out. Remove any dead or overgrown plants. Trim shrubs.

Weed flower beds.

Add flowers to the landscaping or in

pots

. Remember to water regularly!

Use furniture to accentuate outdoor spaces.
---
Kitchen Items
Quick tip: Kitchens and baths sell a home. In most situations, remodeling a kitchen will not provide a 100% return on the investment; therefore, consider what small changes you can make to update your kitchen.
Have your kitchen professionally cleaned.

Clean the stove, oven, microwave, and refrigerator inside and out.

Touch up paint or repaint if necessary in a neutral tone that compliments the cabinetry.

Update hinges, hardware, sink fixtures, and light fixtures.

Remove clutter from countertops.

Clear the refrigerator of magnets, photos, and paperwork.

Organize cupboards by removing or boxing excess or mismatched items. Overstuffed cabinets leave the impression there is a lack of space.

Scrub and polish the sink to make it look new again.
Make sure the faucet gleams and shines before each showing.

Keep windows clean, inside and out.

Keep mops, brooms, and vacuums out of sight.

Remove all pet items.

Empty the garbage before each showing.
---
Bath Items
Quick Tip: Your goal is for buyers to envision themselves in this luxury every day.
Have your bathroom professionally cleaned. Make it sparkle!

The best bathroom upgrades that give you the most bang for your buck are repainting the walls in neutral colors, replacing leaking and worn faucets, updating the cabinet hardware, installing new light fixtures, and updating towel bars.

Remove your daily toiletries (For example, shampoos, toothbrushes, soaps, cotton balls) or

display them in spa like bottles.

Remove toilet brushes, shower mats, extra toilet paper rolls, sponges, and trash cans.

Remove scales (Buyers do not want reminders of needing to lose weight.)

Keep toilet lids closed for showings.

Clean mirrors and shine the faucets before each showing.
Organize your cabinets to look spacious and clean.
Store the things you use every day (hair ties, lip gloss) in a pretty box or basket with a lid.
Hang

luxurious towels

.
Beautify by adding one grouping of accessories such as fragrant bath soaps and candles, or add a vase with flowers.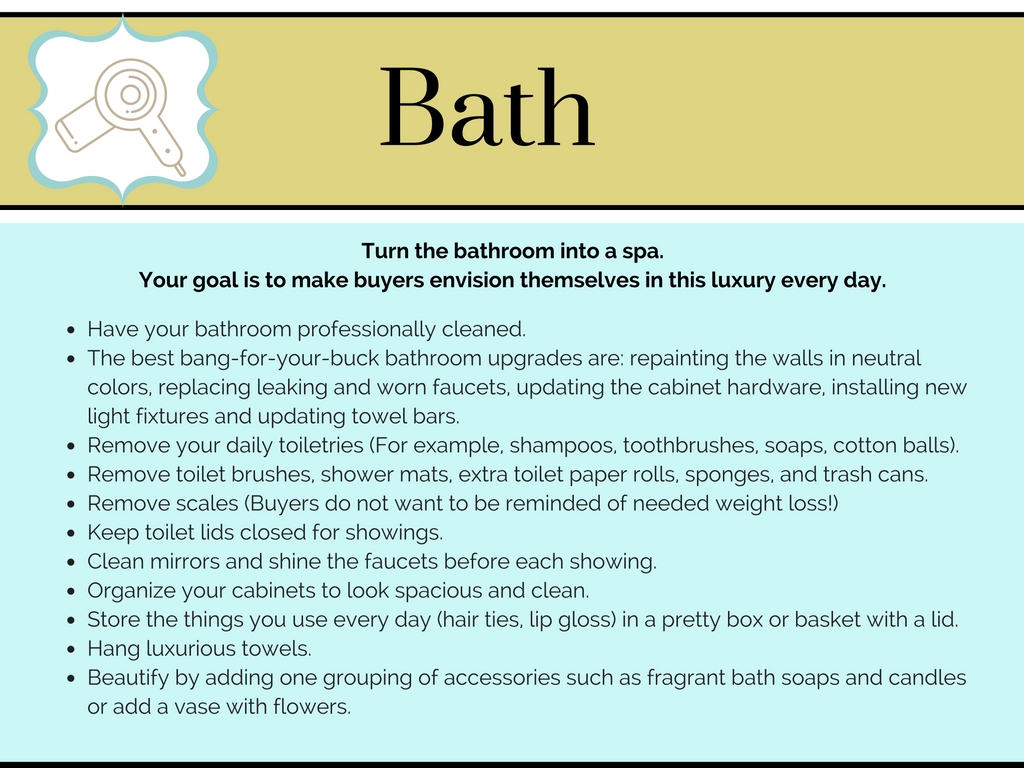 ---
Bedrooms Items
Quick tip: Taking the personality out of bedrooms allows potential buyers to see the room as theirs, not yours.
Remove any personal photos or posters from the walls. Leave tasteful pieces of art. Fill nail holes and damaged spots.
Touch up or paint walls in a neutral color.

Professionally clean carpets, if necessary.

Remove clutter off dressers.

Organize closets

to look spacious and neat.

Invest in new bedding, if necessary.

Make beds for all showings.

Keep floors vacuumed and cleaned.

Close closet doors and drawers.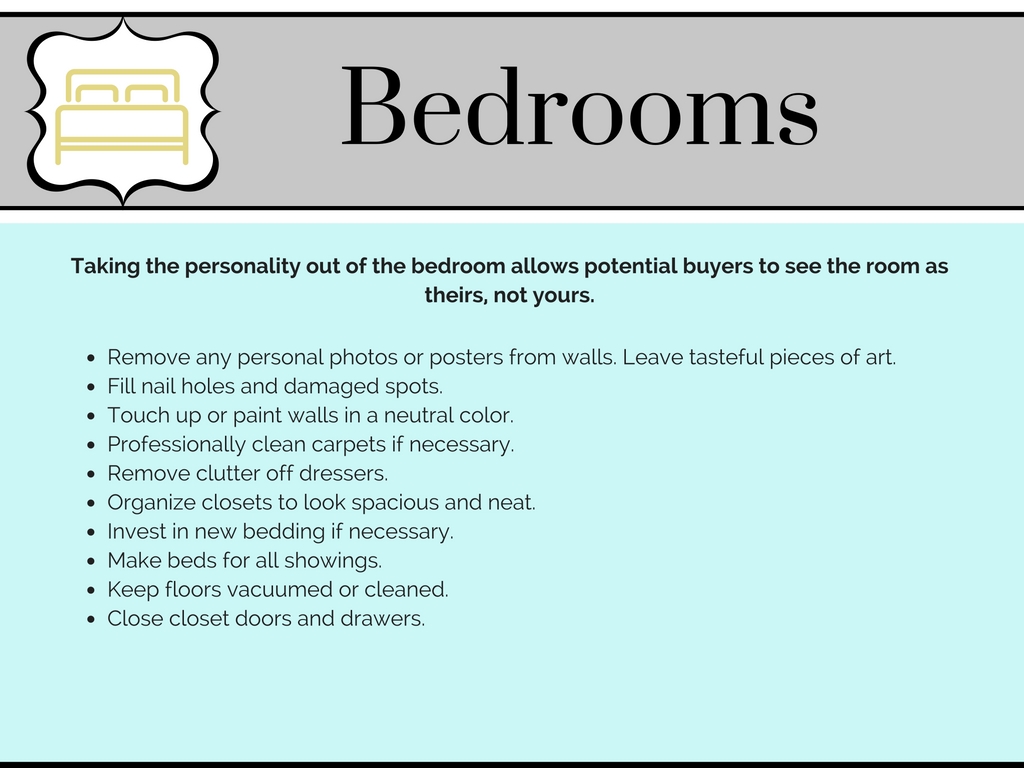 ---
Family Room Items
Quick tip: A common misconception is that a room will look larger when placing furniture against a wall. Instead, furnish your space by floating furniture away from the walls.
Brista Realty offers a complimentary redesign service on all their listings if you have difficulty with this concept.
Professionally clean the room, including doors and trim.

Dust ceiling fans, window blinds, vents, and baseboards.

Touch up or repaint walls in a neutral color if necessary.

Keep furniture at a minimum. Remove any oversize pieces.

Remove personal photos and wall art other than a few pieces.

Keep coffee tables clean and clear of clutter.

Reposition sofas and chairs into cozy conversational groups.

Keep toys out of sight.

Add lamps to lighten up the room.
Use accent pillows and

throw blankets

to soften the space.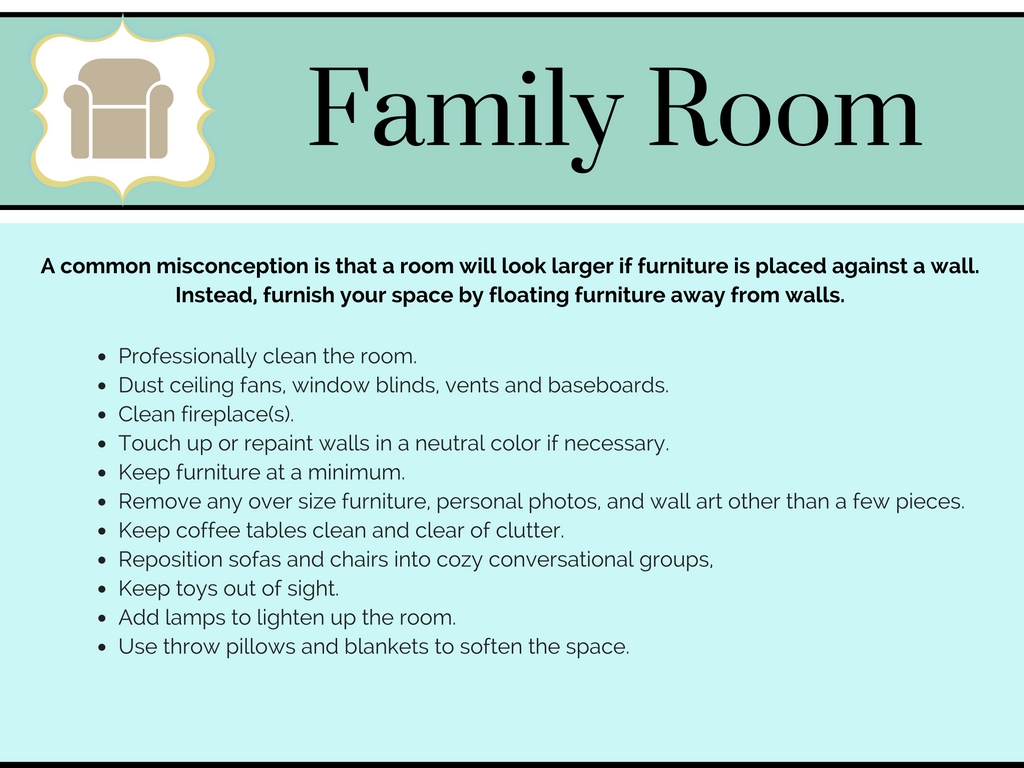 ---
Laundry Room Items
Quick tip: Treat the laundry room like every other room in your house.
Professionally clean the room, including doors and trim. Keep all laundry supplies in cabinets.

Keep surfaces clear and clean.

Put away all laundry.

Use high wattage light bulbs to brighten the space.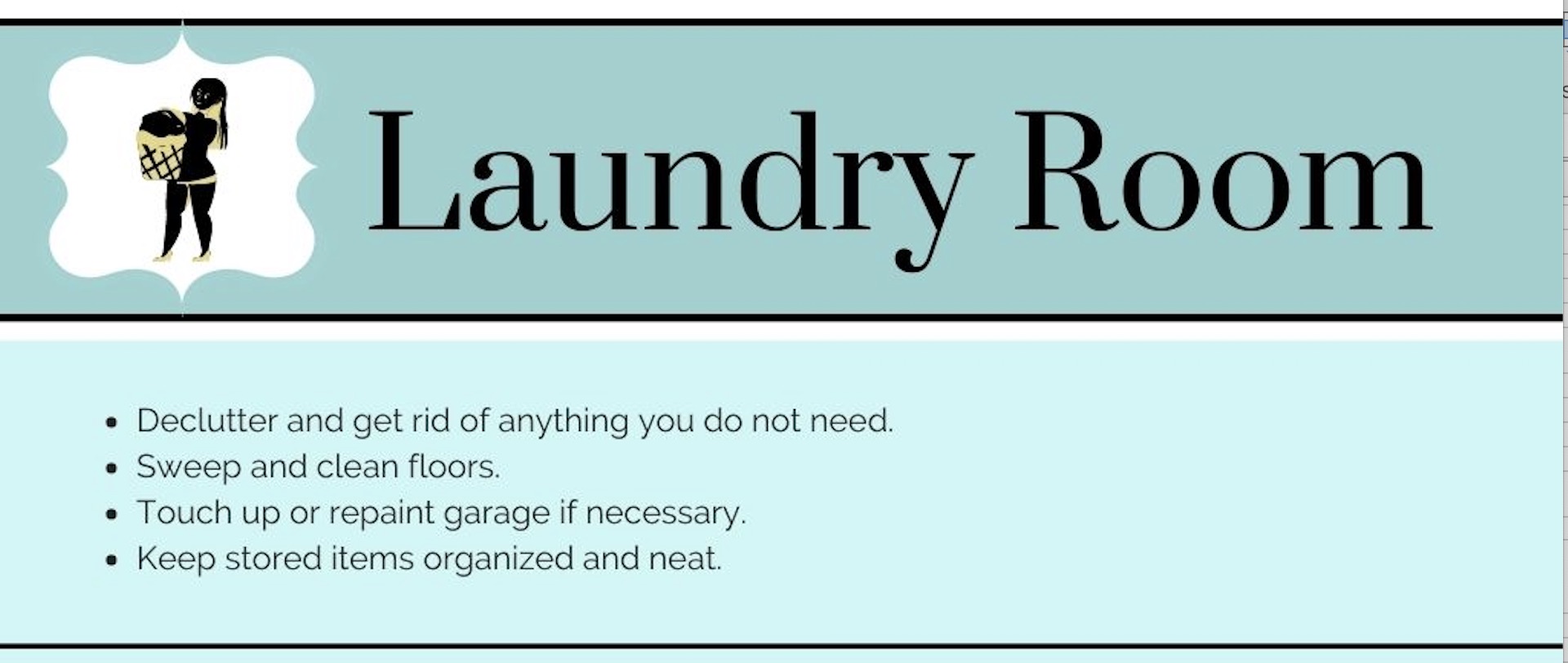 ---
Garage Items
Quick tip: Treat the garage like a room in your house.
Declutter and get rid of anything you do not need.

Sweep and clean floors.

Touch up or repaint the garage, if necessary.

Keep stored items organized and neat.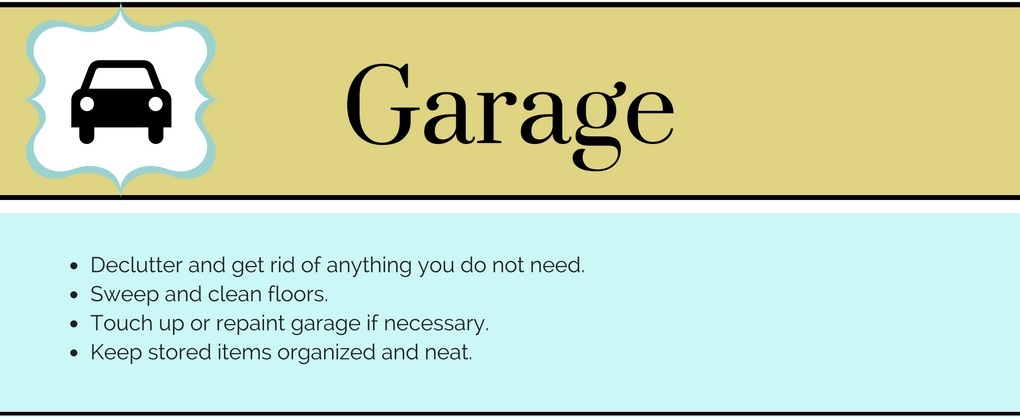 ---
Need help shopping for items on your home selling checklist? Below are a few helpful suggestions. Please note, these are affiliate links. With each purchase I may receive a small commission.
---