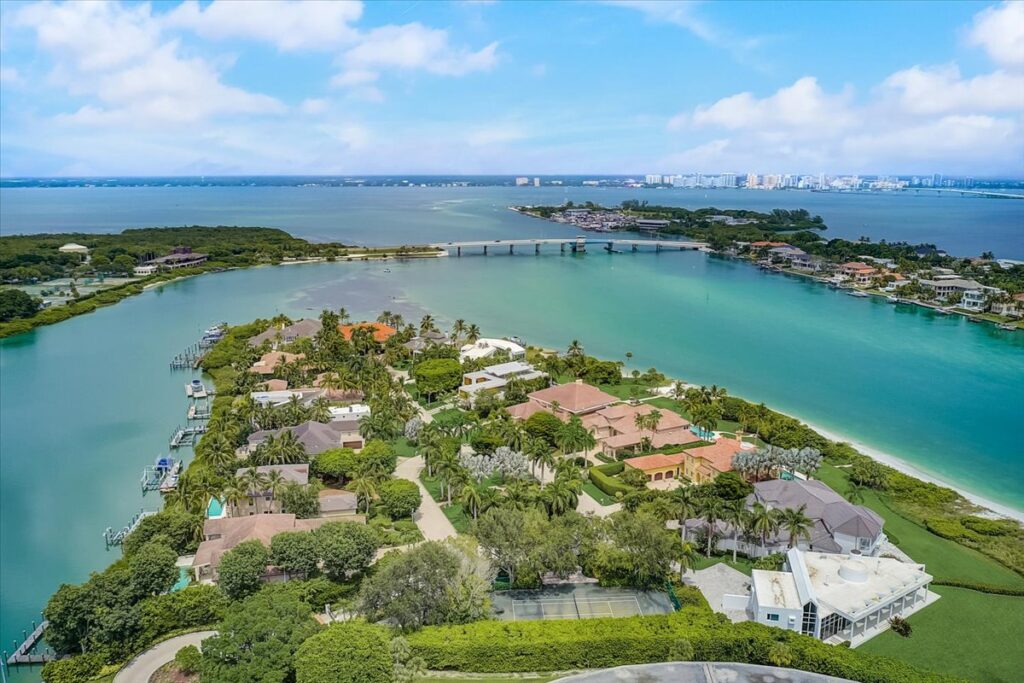 This secluded neighborhood delivers exclusivity and security at the southernmost tip of Longboat Key The small enclave is tucked away in a private cove with sweeping views of the Gulf of Mexico and the New Pass Bridge.
Two sets of gates, one at the entrance to Longboat Key Club and the second at the community's entrance, lead to a tranquil world of only 16 custom residences.
Overview
| | |
| --- | --- |
| Address: | Lighthouse Point Dr. |
| Total Homes: | 16 |
| Year Built: | 1992-2008 |
| Square Feet: | 4400 - 10,000+ |
| Minimum Lease: | 8 months |
| Leases per Year: | 1 |
| Pets: | Yes |
Lighthouse Point Waterfront Homes
More beautiful homes behind the gates of the Longboat Key Club
Finding a home for sale in Lighthouse Point is rare, as properties seldom come on the market. As you can imagine, once someone buys a home in Lighthouse Point and experiences the lifestyle, they rarely leave.
The distinctiveness of Lighthouse Point has attracted a diverse group of residents from all over the world. Yet, they have one commonality — a love for the waterfront lifestyle and all that it offers. Here are five reasons why buyers will love living in this unique Longboat Key community.

The Seclusion
Tucked away at the southernmost point of Longboat Key lies a hidden gem of a community, shielded from the frenetic pace of daily life. Accessible only via two sets of gated entry points – one at the Longboat Key Club and the second at the community's entrance – this enclave is sequestered from the outside world.
Boasting a prime location surrounded by water on three sides, residents can revel in sweeping views of the shimmering Gulf of Mexico and the majestic New Pass Bridge. The tranquil setting of this private cove allows residents to escape from the hustle and bustle of city life, indulging in a serene oasis of pure bliss.
---
The Lifestyle
The Lighthouse Point lifestyle is a celebration of the great outdoors and the waterfront. Residents are privileged to direct access to the Gulf of Mexico, providing them with boundless opportunities for boating, fishing, paddle boarding, kayaking, and swimming.
Furthermore, the Longboat Key Club's 45 holes of championship golf are located just a stone's throw away, along with tennis courts, ensuring that residents can indulge in world-class recreational activities without venturing far from home. The Club also features an array of fine dining options and spa services, promising residents an unparalleled experience of luxury living at its finest.
Avid boaters will enjoy the community's waterfront homes that offer the convenience of private boat docks.
---
The Unique Architecture
Lighthouse Point is an exclusive community that comprises only 16 carefully crafted custom residences, each located on expansive lots brimming with lush, tropical foliage.
The homes are an architectural marvel, spanning between 3,500 to over 9,000 square feet and boasting open floor plans that allow for effortless indoor-outdoor living. These homes feature gourmet kitchens, creating the perfect ambiance for culinary delights, while generously proportioned outdoor living areas are ideal for basking in the sunshine and relishing in the natural beauty of the surroundings.
Each residence has its own distinctive design, whether Mediterranean, Key West, or contemporary. Each estate home has been custom-built and offers a variety of unique features that reflect the homeowners' individuality.
---
The Heavenly Location
The location of Lighthouse Point is about as fine as it gets. Situated on the Gulf of Mexico, Lighthouse Point is a peaceful paradise for boaters and nature lovers and offers plenty of activities to keep you busy.
Owners in Lighthouse Point enjoy their own private community tennis court and the pleasure and convenience of strolling the beach using the community's private access.
It is located behind the Longboat Key Club, so members can easily access the club's amenities, including golf, tennis, spa services, and dining.
You'll discover a wide range of boutiques, galleries, and restaurants less than three minutes away at the trendy St. Armands Circle, just minutes from downtown Sarasota's arts and culture.
Free Guide: 70+ Unforgettable Things to Do
---
The Exceptional Wildlife
Lighthouse Point is a nature lover's paradise with its abundance of tropical birds and wildlife. The mangroves and natural vegetation provide the perfect habitat for various birds, fish, and other wildlife.
It's not uncommon to see dolphins swimming in the waters off Lighthouse Point or manatees grazing on the seagrass. Bird enthusiasts will enjoy watching ospreys nesting in the nearby trees and bald eagles soaring overhead.
These are just a few of the reasons buyers will love living in Lighthouse Point. If you're looking for a safe, secure, and convenient place to call home, then Lighthouse Point is the perfect option.
Contact us today to learn more about this great community and find your new home.
Life on the Island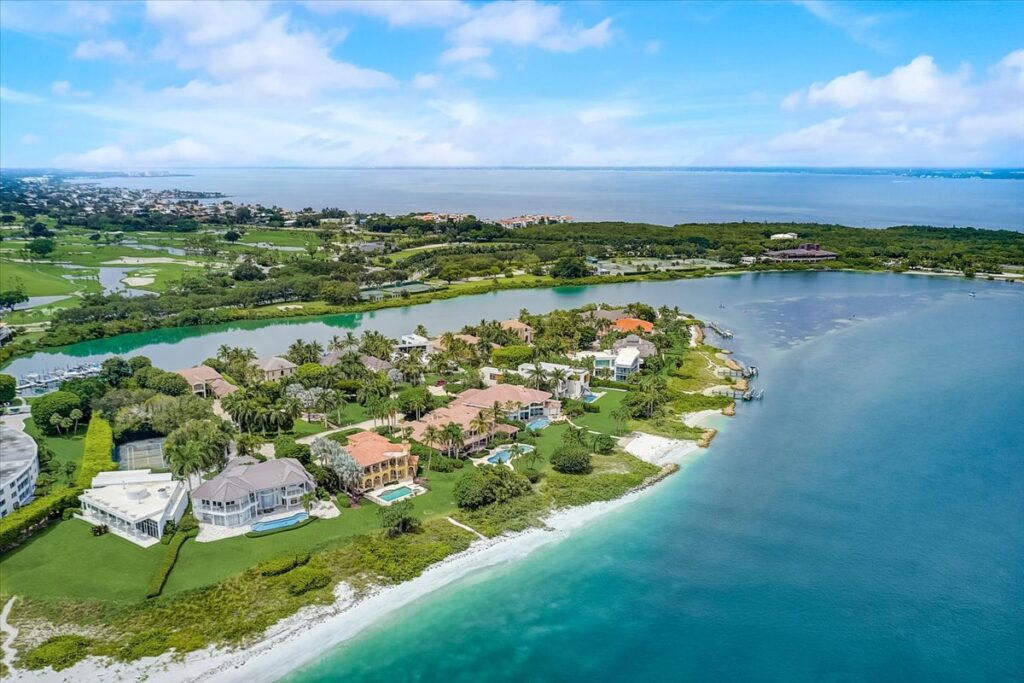 Living on Longboat Key is everything you would expect from an island lifestyle. The serenity of the waves crashing on the shore and the sound of sea birds in the distance. The slower pace lets you enjoy life's simple pleasures.
But Longboat Key is much more than just a place to kick back and relax. It's also a place where you can enjoy an active lifestyle, whether it's golfing, tennis, boating, fishing, or simply exploring the many shops and restaurants just steps from your door.
And when you're ready to venture beyond the island, you'll find that Longboat Key is centrally located to all Sarasota has to offer, including arts and culture, shopping, dining, and entertainment.
So if you're looking for a place to call home that offers the best of both worlds, then Longboat Key is a perfect choice.
Contact us today to learn more about home opportunities in this unique island community.
Resort Living Without Leaving Home
In addition to the benefits of resort-style living, it's worth noting that Longboat Key has several resort-style communities that offer these amenities. Along with Lighthouse Point, which was previously mentioned, some of the other resort-style communities in Longboat Key include Regent Court, Sands Point and the Sanctuary.
These communities provide residents with access to a range of luxurious amenities, including pools, spas, fitness centers, tennis courts, and more. Additionally, they offer a sense of community and social connection, as residents can participate in community events and activities. For those who value a high-quality lifestyle, resort-style living in Longboat Key may be an attractive option.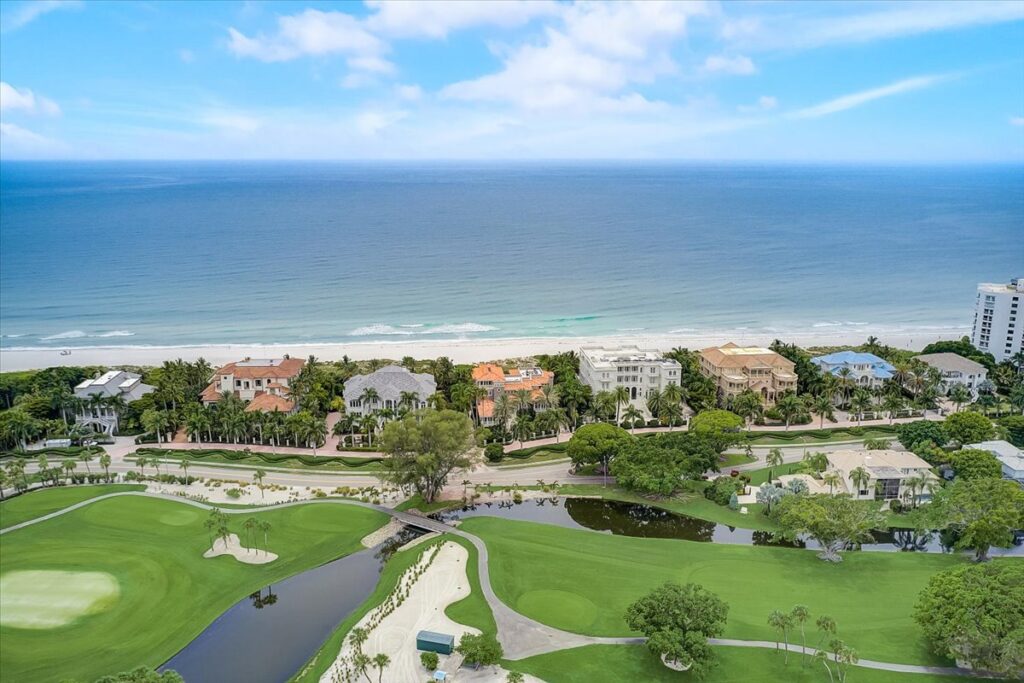 ---
Search Homes by Longboat Key Lifestyles