The neighborhood of Country Club Shores is one of the most sought-after on Longboat Key. See why everyone sings its praises.
Nestled at the southern bayside of Longboat is the vintage community of Country Club Shores. Developed by Arvida in the 1960s, this timeless waterfront community features 369 single-family homes lining 18 deepwater canals. For this reason, it is one of the most sought-after neighborhoods on the key.
Due to its popularity, many residences have been gracefully renovated to maintain their classic architecture and old Florida charm. Yet, the recent trend is to tear down and replace with luxurious new construction.
Recently, the community has seen a shift in demographics, with more young professionals and families than in the past. As a result, it is a beautiful mix of families, snowbirds, and retirees.
---
What makes Country Club Shores a great place to live?
There are so many reasons one would love this community. Here are the top five:
1. Affluent Old Florida Atmosphere
Country Club Shores offers a mix of homes accompanied by palm trees and mature landscaping throughout. Therefore, it is not your cookie-cutter community. Homes range from smaller two-bed, two-bath ranch-style homes to luxurious five-bedroom, five-bath waterfront estates. Nearly every home boasts a waterfront lot with a private dock accommodating a 30′ to 40′ boat. For these reasons, it is truly a boater's paradise complemented by an easy-going lifestyle.
Residents located at the eastern part of the canals enjoy sweeping views of Sarasota Bay and the downtown Sarasota skyline. To add to the allure, the streets are creatively named after golf and boating terms. Hence, names include Birdie, Bowspirit, Chipping, Cutter, Golf Links, Hornblower, Outrigger, Ranger, Wedge, Yardarm, and Spooner.
Arvida developed the community in five stages with 19 streets and 18 canals. Beginning at Sloop Lane are the first three stages with streets branching directly off Gulf of Mexico Drive. The last two phases, ending at Putter Lane on the north end, have separate entrances with signage.
2. Glistening Turquoise Waters, Incredible Sunsets and a Secluded Beach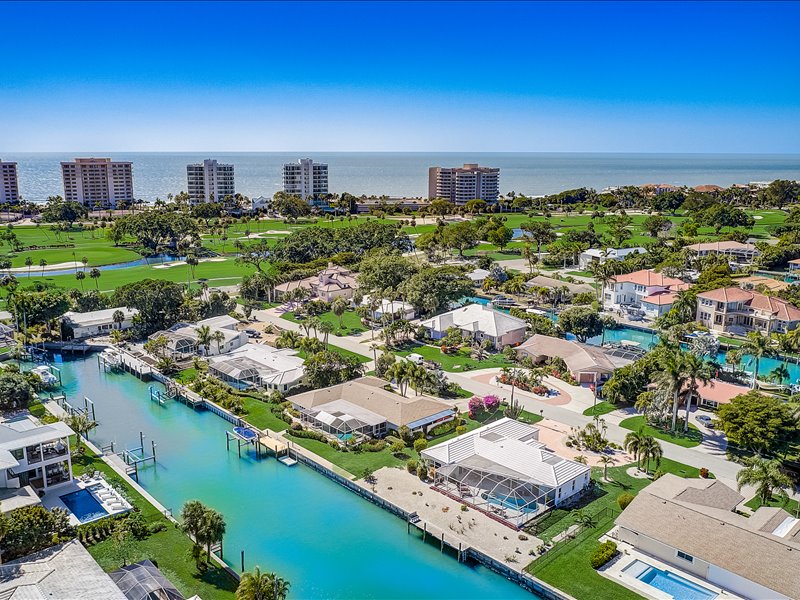 Residents of Country Club Shores enjoy deeded access to one of the most beautiful beaches on the west coast of Florida.
There is nothing more heavenly than to experience the glistening turquoise waters of the Gulf of Mexico or to watch the incredible sunsets from the secluded beach.
Let your thoughts drift away as you take a stroll along the twelve miles of magnificent coastline dotted with luxurious condos and million-dollar homes. It is truly the vacation that never ends.
Where is the Country Club Shores beach access?
Use the crosswalk located at the Country Club Shores V entrance. Walk straight ahead to the beach path between the Privateer and the Beach Place condos.
In addition to the Country Club Shores beach access, there are ten different beach access points throughout Longboat Key. These entry points provide residents convenient access from just about anywhere on the island.
3. Waterfront Lots with Sarasota Bay Access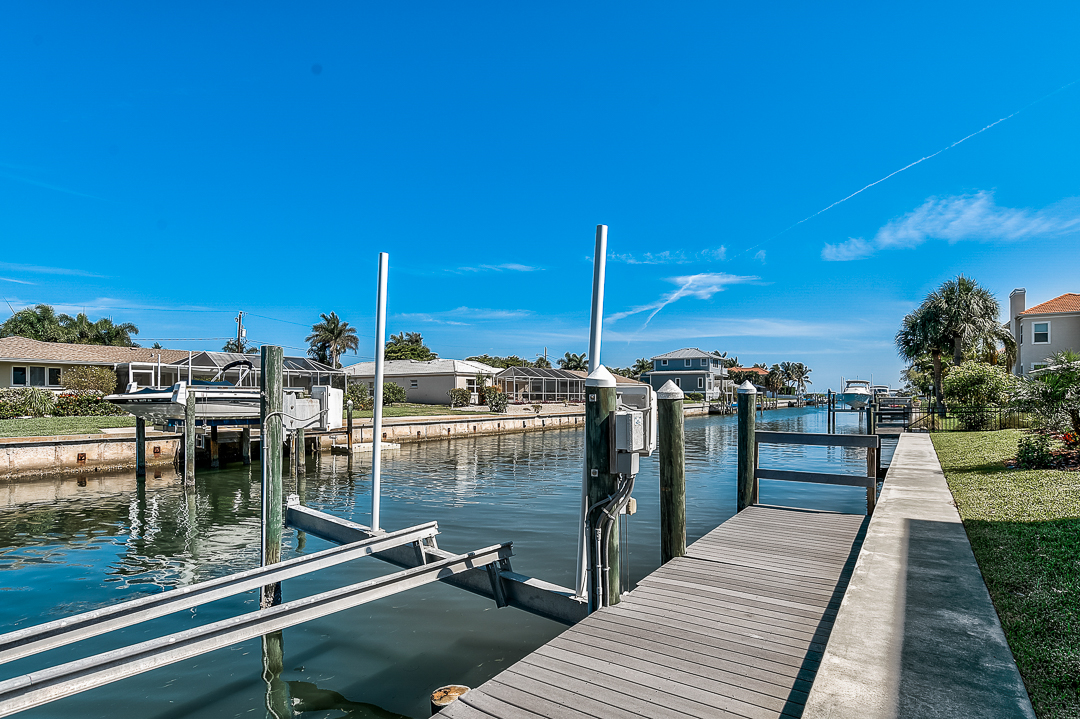 The island of Longboat Key is a popular place for boaters. This may be the reason Arvida fashioned the community of Country Club Shores to be a boater's paradise right from the start.
With boating in mind, each of the 18 deepwater canals provides access to the open waters of Sarasota Bay and easy access to the Gulf of Mexico. Several local restaurants offer docks to set anchor and grab a bite to eat or drink. Restaurants with docks include the Shore, Mar Vista, and Dry Dock Waterfront Grill.
4. The Esteemed Resort at Longboat Key Club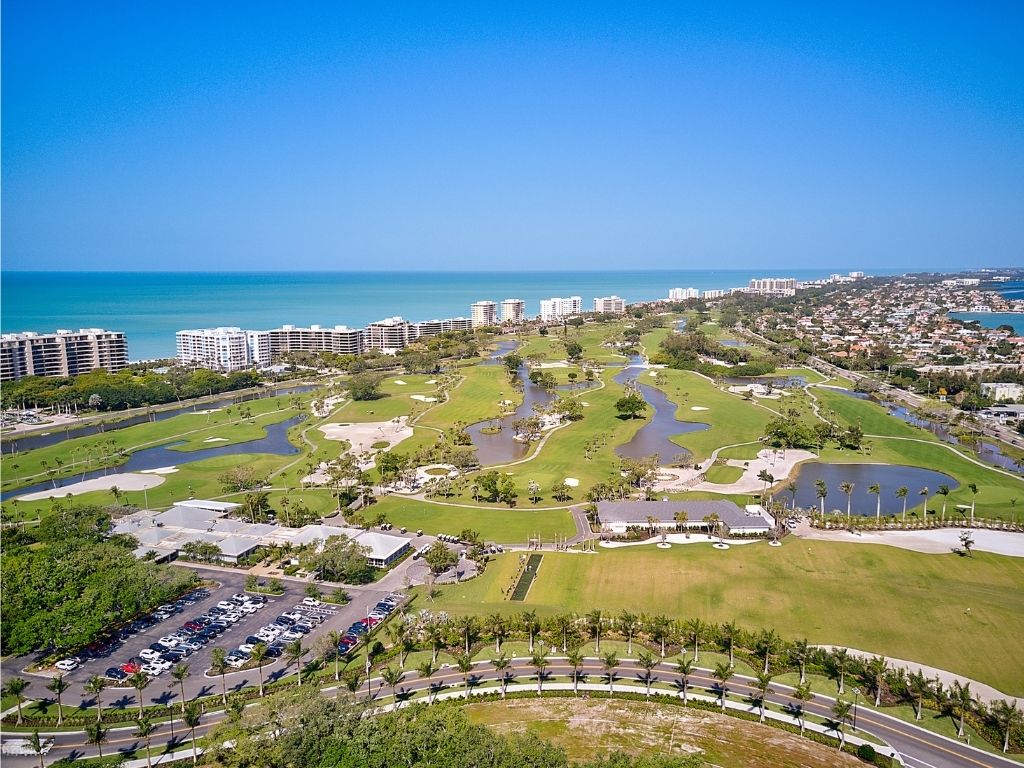 The Arvida Realty Company transformed the south end of Longboat Key in magnificent ways. Not only did they create Country Club Shores, but they built the Longboat Key Club.
The renowned Longboat Key Club is located directly across Gulf of Mexico Drive. The club offers a variety of membership opportunities including a marina, tennis, 45 holes of golf, a wellness spa. In addition, there is a range of dining options. With stunning white sand beaches, watersports, five restaurants and lounges, you may never want to leave the 410-acre get-a-way.
The Longboat Key Club Moorings is located bayside and part of the Longboat Key Club. It features a marina with outstanding services including fuel, water, electricity, cable, WIFI, and showers. Apart from this, there is full-service laundry, on-site boat maintenance, and dockhands.
5. Nearby Boutiques, Restaurants, Salons, and Galleries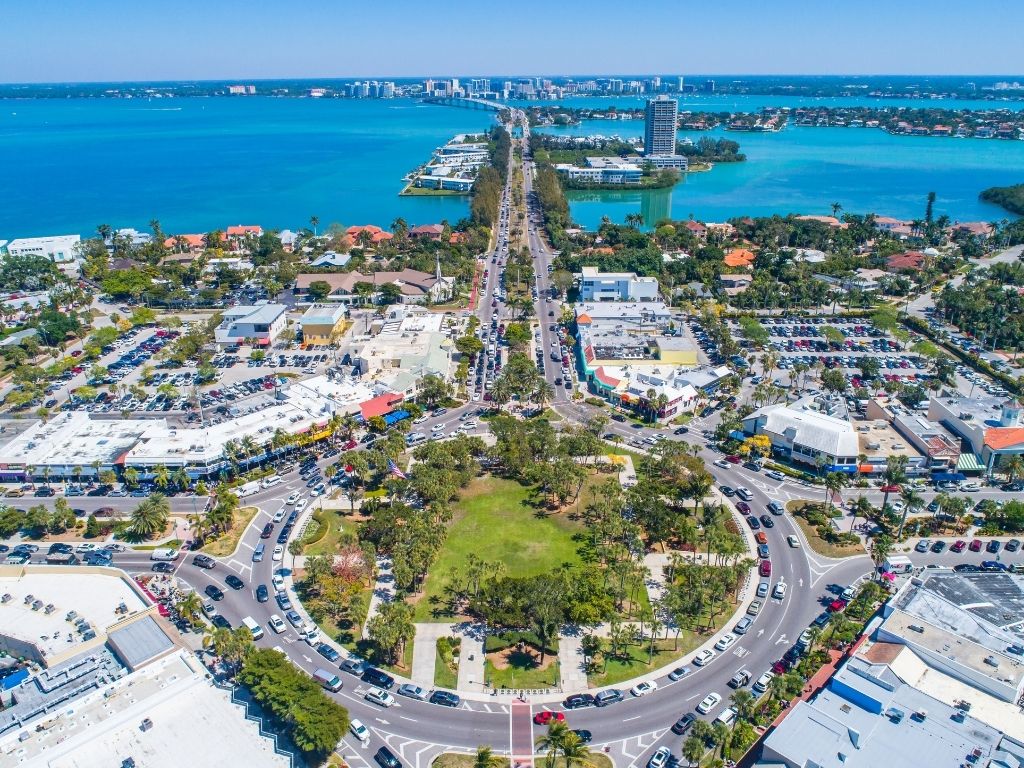 Within minutes from Country Club Shores, just beyond the New Pass Bridge, is the lively St. Armand's Circle. This posh gathering place features over 130 boutiques, restaurants, spas, salons, and galleries.
Unquestionably, the circle encompasses a unique sense of history too. The Circus "Ring of Fame" honors those individuals who contributed significantly to the circus's arts and culture.
In addition, thirty-three statues throughout the circle reflect the rich Sarasota history envisioned by John Ringling in his extensive travels.
---
Country Club Shores Longboat Key Homes for Sale
Vacation Rentals Country Club Shores Longboat Key
Find your dream vacation rental on Vrbo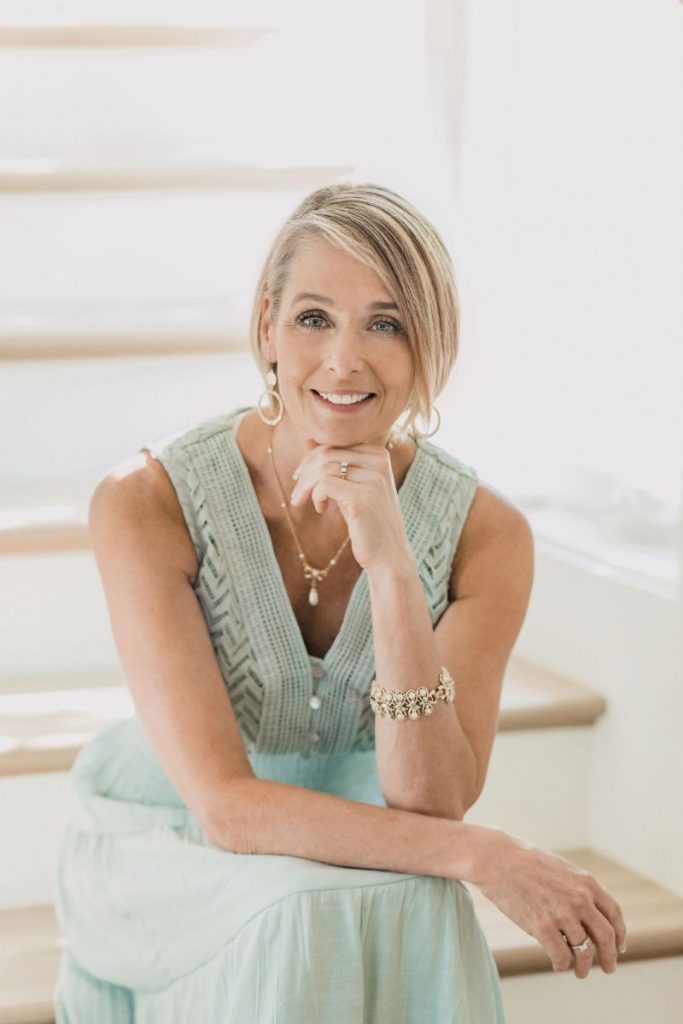 I am Gina Ursini, a realtor in Longboat Key, Florida and the owner of Brista Realty. I am passionate about real estate and design and love sharing my knowledge through my real estate blog.
If you have questions about the area, feel free to contact me. If you are moving to Longboat Key and need a Realtor to show you around, let me know. I am happy to share all I know about Longboat Key with you.